ORIX is a dynamic and diversified enterprise; a leader in numerous domains.
Leasing
Hire Purchase
Factoring
Trade Finance
Consumer Finance
Instalment Payment
Car Rental
Automobile Leasing
Fleet Management
ICT Equipment Rental
Office Automation Rental
Test & Measurement Equipment Rental
Insurance Agency
Asset Management
Alternative Investment
Energy Efficiency Solutions
ORIX Leasing Malaysia Berhad, the pioneer equipment leasing company, has been established since 1973 in Malaysia, providing diversified financial services for acquisition of movable assets from office automation, information & communications technology (ICT) equipment, manufacturing machinery to commercial vehicles, medical equipment, vessels, and construction equipment.
The Company was established through a leasing joint venture in September 1973 between ORIX Corporation (Japan) and several local partners. In 2008, ORIX Corporation took over ORIX Leasing Malaysia Berhad and we are now a 100% subsidiary of ORIX Corporation with a staff force of about 550 and a network of 20 branches (19 branches nationwide and 1 branch in Singapore) in addition to our Kuala Lumpur head office. Via its Group of Companies of 20 wholly owned subsidiaries, the Company has effectively expanded beyond equipment leasing, offering a vast range of financial services.
ORIX Corporation, one of Japan's largest integrated financial service institutions, was established in 1964 and has steadily grown into a notable global financial services group with operations covering 28 countries worldwide and more than 32,200 employees. ORIX Corporation is listed on the Tokyo and New York Stock Exchanges.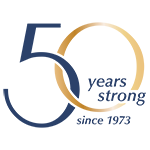 Anniversary
Celebrating 50 years

The Pioneer Equipment Leasing Company
in Malaysia